January 8, 2005
The 4CE

Centerflag Products has been around since 1999, quietly building high end air systems for the most demanding players and their markers. Their premier adjustable, the 201 incorporated several features that immediately got people's attention and put the small Yorkville, IL company in the spotlight. The hallmark of Centerflag's air systems has always been to use high-quality materials in the construction of their regulators. A friend of mine has an original 1999 model 201 that he uses to this day, which is a testament to the quality of the regulator and its' performance.

In 2004, owner Dennis Ashley quietly began designing a higher end version of the 400 series regulator. The result was called the "4CE". The 4CE (pronounced "Force") is an evolution of the 400 series regulator. Initially it was thought that the 4CE would replace the 400 series, but it was decided that the 4CE would be a higher end alternative to the 400, offering some adjustability and enhanced safety features. The 4CE was introduced at the 2004 World Cup and reaction to the new regulator was extremely positive.

Exploded View
The 4CE is a semi-adjustable screw-in type of regulator. Adjustments are made by replacing the regulator's mainspring. To make adjusting the regulator easier, the top cap of the regulator is milled to allow easier gripping of it. It threads onto the regulator's body, and it's locked in place by set screws around it. Centerflag will sell the 4CE with a standard 800 psi spring, with the option to buy a kit allowing the regulator to run at lower or higher pressures, to the user's needs. It also comes standard with a neoprene bottle cover, to protect the bottle from damage.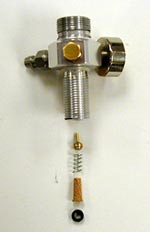 The most interesting feature of the 4CE is the ability to tear down and swap main springs or service the regulator with pressure on the bottle. A spring kit is available from Centerflag that allows the user to adjust the output pressure to 350, 450, and 1000 psi, according to what the user needs for a particular marker. The 4CE ships with a medium pressure spring, outputting 800 psi. At the very bottom of the regulator body is a check valve that is normally open when the regulator is assembled. As a user untwists the cap to take the valve apart, the check valve closes, sealing the bottle. The first couple of times I did this, I noted that air came out of the threads holding the cap on, as the regulator tried to regulate air present in the body. Another half turn on the cap and the check valve closed, sealing the bottle and allowing me to completely disassemble the regulator and lube it.

The internal design of the 4CE is very similar to the 400 series regs, using high quality o-rings and springs. Dennis Ashley of Centerflag noted that "The 400 series regs are very high quality and work really well, so I didn't see much need to change the basic design of them." When asked about why the 4CE was better than the 400's he said "It's more of a refinement of the 400 series…with this reg, you can adjust your output as needed very quickly and very safely, without having to spend a huge amount of money buying an adjustable."

During field testing, the 4CE was used on a variety of markers, from an Action Markers Diadem, to a Matrix LCD, and a MT-Converted LCD Angel. The test crew used the air system during practices and everyone was happy with the small size of the regulator and its' ability to keep up with their markers.

The final torture test for the 4CE came with the Master Tech converted LCD Angel. This marker has been treated to the Angel 4 Fly eyes and board, and it's very fast. In an attempt to get the 4CE to shoot down, I turned the TR Setting (Trigger Response, or 'bounce') of the LCD's board to 15 (which is VERY illegal with the marker's current trigger job), aired it up, loaded a V35 HALO full of paint and let loose. The Angel emptied the hopper very quickly, with the board showing a ROF of 25 bps. No shoot down was observed, and none was noted after several repetitions of the test, making a big dent in the author's paint supply and emptying the tank.

With an MSRP of $289, the 4CE is priced a bit higher than its' 400-series counterpart, but with the adjustability and the ability to service and adjust the regulator with pressure in the bottle being major advantages to owning one. Spring Kits are priced at $19.95, and a rebuild kit is priced at $24.95. For more information on the Centerflag 4CE, check out www.centerflagproducts.com, or give them a call at (630) 553-2611. The author wishes to thank Test Crew members Jacob Pauley and Cedric DeValk for their input during testing