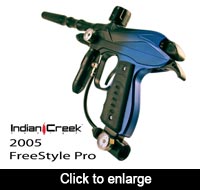 Indian Creek Designs have recently just released their new 2005 marker, the Freestyle Pro.
The Freestyle PRO has advanced features over the 05 Freestyle.

Indian Creek Design, Inc. is proud to announce the release of the FreeStyle Pro paintball marker. This marker accentuates all of the greatest features of the stock FreeStyle with some innovative new upgrades to ensure maximum competitiveness. The Pro is an incredibly light 2.2 lbs. and is even smaller than the current FreeStyle Stock.

Other features include:


• Unlimited ROF
• New modular cylinder design with No-tools field-stripping
• QEV (Quick Exhaust Valve) for higher ROF
• Extremely accurate
• New board design and easily upgrades To NOX or CHAOS boards
• Cocker Threads
• Clamping Feed Neck
• Built-in Snatch Grip
• Recessed Illuminated Toggle on/off switch
• Paintball Detection System (PDS)
• Clamshell Grip Frame
• Dual Regulated
• 4-way adjustable trigger
• Multiple trigger designs available
• Barrel, Rail and On/Off ASA included
• Matte finish with fade anodizing
The Freestyle pro should be in stores within a couple of months and are selling for about $1000. They haven't been released to stores yet but you can preorder them at some stores.
ICD's Website: www.icdpaintball.com
More Pictures (click to enlarge)