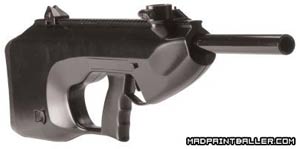 NPS EVolt
This is the official press release from NPS:
---
2-10-05 (Sewell, New Jersey):
The worldwide leader in the manufacturing, marketing, and distribution of paintball products, unveiled the first in its new line of paintball markers, the EVolt™, which utilizes patented Power Pulse™ technology, on January 28, 2005, in Las Vegas at the SHOT Show.
Gino Postorivo, President and CEO of National said,
This is not simply a revamp of known paintball technology, but it is a truly revolutionary design, with patents issuing imminently on the first generation of the EVolt™ and various patents pending on the second, third, and fourth generations of this revolutionary new technology.
The EVolt™ paintball marker is powered by a rechargeable 18 volt battery pack. The battery not only powers the cycling operation of the marker, but actually generates the compressed air required to launch the paintballs. Air tanks not included... and not needed.
The entry-level, first generation EVolt™ paintball marker is currently capable of cycling at a rate of over six paintballs-per-second with velocities up to the "industry standard" minimum of 300 feet-per-second. A fully charged battery gives over 500 shots at a consistent velocity. The battery may be recharged in approximately 90 minutes, and can be replaced in seconds. The ambidextrous "Bull-Pup" design includes a picattinny sight rail, removable clamping feed neck, "Timmy" barrel threads, angled foregrip and lockable velocity adjustment. Accessories are currently being developed.
Production quantities are expected in time for the Fall/Christmas 2005 selling season. MSRP is about $250
It is not exactly a beautiful gun and it's 6 bps is pretty meager, but this is the first marker that is powered by batteries other then compressed air. It is a new design and it's in it's early stages, so the weight and appearance is understandable. Who knows, maybe this will change paintball forever, and we will laugh at the day that we used co2 to propel paintballs. Here are some more pictures. (click to enlarge)