Paintball Bunkers from Extreme Rage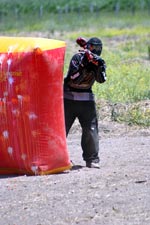 Extreme Rage has recently just released their new inflatable bunker kit, 'InflataField'. This kit of paintball bunkers is inexpensive and were made with the idea in mind to provide a cheap bunker solution for practicing and to make cheap fields.

This kit has been designed to offer the recreational paintball player or local team an affordable option to practice their game skills on an inflatable field based upon similar designs used by organized tournament events. These bunkers are very durable but not intended for commercial use.

The price for one of these Kit's are around $299


The Inflatafield kit includes:
| | |
| --- | --- |
| The Kit | 1 Big Slab |
| 2 Slab's | 2 Big Can's |
2 Slabs (3' x 4' x 1.5' each)
2 Big Cans (5' x 3' each)
1 Big Slab (5' x 4' x 1.5' each)
1 Electric Air Pump (not shown)
24 Pegs (not shown)
1 Deluxe Repair Kit (not shown)
Detailed operators manual
Paintball game book
The warranty is if you fill for the first time and it leaks air, then you send it back between 90 days of the purchase of the kit and the will replace it for you. The paintball sup air bunkers are durable but if it gets a leak your going to have to patch it up yourself.
If you want to make a larger field with more bunkers then buy more then one kit! You can also order different bunker's such as the Giant Slab, Giant Can, and a Taco. The Giant Slab's and Can's are over 7 feet tall.
Here is Extreme Rage's Official Site on the Inflatafield: Extreme Rage Inflatafield
Here are some pictures of some fields that were put together using these paintball bunkers. Click to Enlarge: