Spyder Electra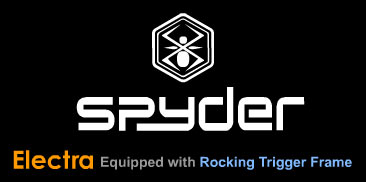 MSRP: $329.95
AVAILABLE IN MID MAY 2005
Highlights:
1. CAMD 3.0 ELECTRONIC BOARD - User-friendly color access mode display for easy read out. Semi-auto mode with reactive response trigger, up to 30 bps. Enchamced Modes: 3-rnd Burst, 6-rnd Burst, and full auto.
2. ROCKING TRIGGER FRAME V. 2.0 - Shoot twice as fast.
3. DELRIN ACS (ANTI-CHOP SYSTEM) VENTURI BOLT - Minimize ball breaks.
4. AERO TWIST ACCURACY BARREL - The most advanced invention in barrel accuracy.
Features:
CAMD 3.0 (COLOR ACCESS MODE DISPLAY)
Firing modes includes Semi-Auto (30 bps), 3 bursts, 6 bursts, and full auto
Rocking Trigger Frame V. 2.0 with regulation trigger guard
Sleek, custom milled receiver
Matte fade anodizing
Delrin ACS (ANTI-CHOP SYSTEM) Venturi Bolt
Dual co2 c/a adapters (angle c/a adapter and vertical adapter)
12" Aero Twist Accuracy Barrel
Double Ball Detent
Reactive Response Trigger, Up to 30 shots per/sec (Semi Mode)
Tournament Lock Switch
Tournament Velocity Adjuster
Anti-Double Feed
Gas thru Chamber with fore grip
Adjustable Clamp Feed
Drop Foward
Low pressure chamber
Bottom-line set-up with stainless steel hose
Top Cocking Bolt
Deluxe Quick Disconnect Pin
Electronic Safety Mode
Battery Indicator
Operates on co2 or compressed air
Here are some more pictures of the spyder electra
Click on the thumbnails to enlarge